From Olvia Reksodipoetro:
Dear Friends,
First of all, I sincerely hope you all stay healthy during this critical period.
As everywhere in the world, Indonesia is affected by the virus which spreads so easily and YUM is particularly concerned that the poorest do not have the understanding nor the means necessary to protect themselves. Experts confirm that Indonesia has not yet reached its peak and that the number of cases will continue to increase, particularly in the provinces.
For this reason, we provide basic necessities such as soaps (for hand washing) and masks. We also disseminate health and safety information via social media and direct messaging, but also in the form of banners in villages and brochures for families who do not have access to online communication. Since more than half of people in Indonesia depend on a daily income (which they won't get because of social distancing), the second phase will focus on the distribution of food parcels to the poorest families and the elderly in our two working areas: West Java (Cipanas) and Central Kalimantan.
We just launched an appeal for funds through GlobalGiving (COVID-19 Support for 4000 Poor Indonesian Families)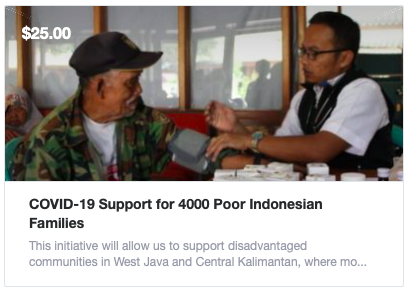 It would greatly help us if you could share this information with your friends – Subud or not. No amount is too small. (Donations can also be made through our website)
Love,
Olvia
Olvia Reksodipoetro
Trustee / Governing Board
Foundation for Noble Work
YAYASAN USAHA MULIA ("YUM")
http://www.yumindonesia.org/
ASSISTING POOR COMMUNITIES DURING THIS PANDEMIC