From Subud World News: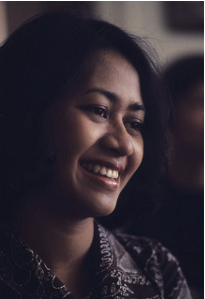 Ibu Ismuwati Lee, known by most Subud members simply as Muti, passed away this morning, July 1st, at 1:49 in the morning, Jakarta time, after a short but severe illness. She was buried later in the day at Suka Mulia, Cipanas, close to Bapak's grave.
Muti was the daughter of Mas Mengung and Ibu Rochanawati, Bapak's daughter through marriage to his second wife, Ibu Sumari. Bapak's eldest daughter, Ibu Rahayu, married Mas Mengung after Rochanawati passed away, so that Muti became daughter to Ibu Rahayu, whom she accompanied and looked after till now.
Muti and her husband, Raymond Lee, lived at Ibu's house in Pamulang and were responsible for translating and transcribing Ibu's talks. Muti also worked in Ibu's office, attending to correspondence, arranging meetings and much more. Her tireless and selfless dedication to Ibu Rahayu and in her work for us all was praiseworthy, and is reflected in this message to Muti from Paloma de la Vina.
In addition to Ibu Rahayu and Raymond Lee, Muti (who was 65) leaves behind two sons (Ardian and Harris) and three sisters (Tuti, Indra and Ticna). Her brother Mas Adji already passed away.
May Muti be received in grace by God and granted a blessed onward journey.