You are cordially invited to the annual concert at Brander Gardens, the jewel of Seattle's P-Patch system, with Subud Greater Seattle Chair Jim O'Halloran, and a band of musicians and other artists he has curated. Details from Jim:
The FOURTEENTH (!) annual Bradner Gardens concert will be Saturday, August 10th; 6:30-8:30 in a beautiful outdoor setting. Pack your dinner and bring a blanket. We'll be (as always for Bradner) trying navigating uncharted waters with some terrific players and special guests!
Irene Mitri on violin, Jim on flutes, Nathan Vetter on trombone, Eddie Resto on bass, Larry Mahlis on Drums, Tor DIetrichson on percussion with special guests vocalist Frank Anderson subbing for Elva Pope this year and poets Alan Chong Lau and Paul Nelson.
Check out Irene here: http://charangadanzon.com
Jim here: https://store.cdbaby.com/Artist/JImOHalloran
Nathan here: https://www.youtube.com/watch?v=f4aIvJ1iJ0Y
Eddie here: https://www.youtube.com/watch?v=i5XQ-7XQE24
and here: https://www.youtube.com/watch?v=ya9K1stWKfE
Larry here: https://www.youtube.com/watch?v=8JqhqiNbfgQ
Tor here: http://tordietrichson.com
Frank here: https://www.youtube.com/watch?v=-lIE2EjoO3k
Alan here: https://www.youtube.com/watch?v=Z4bzUain2KA
And Paul here: https://www.paulenelson.com/home/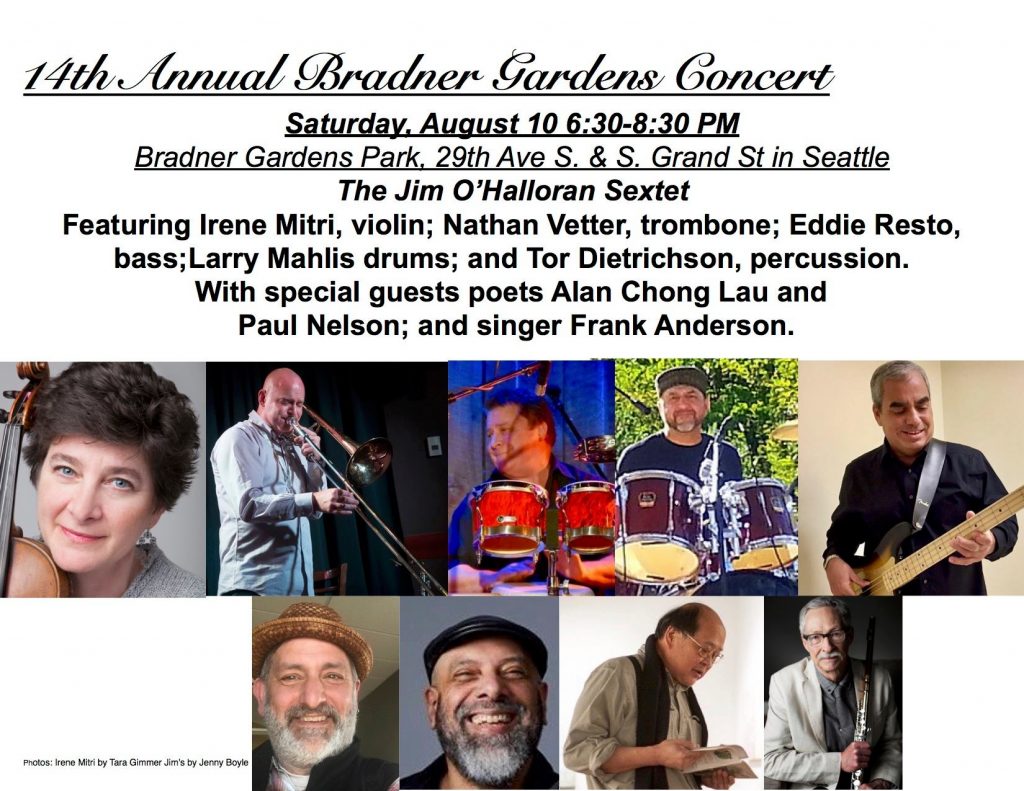 Jim O'Halloran's Annual Garden Concert