From Subud California:
Dear Subud Members,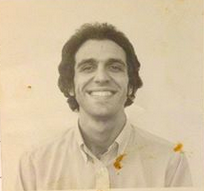 Our dear brother Aswan Karapetian passed on April 20th. His family is so grateful for the love, care, and relief his Subud brothers and sisters have provided him at his death, during his illness and, most of all, during his life.
As a storytelling family, the Karapetians invite all Subud California members to share their stories about Aswan. If anyone has a memory they'd like to offer, they can write to Hamidatun at hamidatun1969@gmail.com or to Farrah at farrahkarapetian@gmail.com.
In addition, the LA Center is collecting contributions to help defray the funeral costs which Aswan's family will incur. As Aswan and his family have ties throughout our California Region, this message is going out region-wide to reach all who may wish to make a contribution.
Checks can be made out to Subud LA and sent to Subud Los Angeles, 5828 Wilshire Blvd, Los Angeles, CA 90036-4501. Please earmark for Aswan.
Thank you for sharing your stories or your contributions as you are moved.
Aswan Karapetian has Passed On