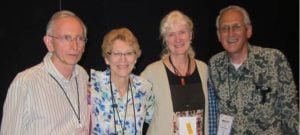 Pictured above left to right are Mahmud Nestman, Myriam Ramsey, Suzanne Renna and Sjarifruddin Harris
Friday, Jan. 12 – Subud Greater Seattle – Eastside facility
Group Dinner with Subud Members
Attending latihan 8 pm Friday evening
Saturday, Jan. 13 – Bellingham/Skagit Valley
Will drive up from Bellevue, WA Saturday morning
Group activities still to be decided by the group
Sunday, Jan. 14 – Subud Greater Seattle Subud House 
Attending morning 11 am. latihan
Group Potluck – please bring a dish to share
Group Activities with the IH team
Monday, Jan 15/16 – Portland Subud House
Attending Monday Evening 8 pm. latihan and Tuesday 1 pm latihans
Group Activities with the IH team after
Suggested Content for the visit:
– Visits to groups have worked well when given time to meet with just helpers and time to meet with the whole membership.
– Having regional helpers and national helpers accompany us when possible has been a real gift.
– We also suggest a time to meet with the Regional helpers/ and national helpers if they would like. But any schedule you feel is best for your area is fine with us.
– We don't plan the content but just let any testing or topics arise.
– If you or your members have anything specific you would like to share, please let us know.  Otherwise, we can share our visits and communications from Ibu, the work on the new helpers guide and world congress information.
International Helpers Visit PNW