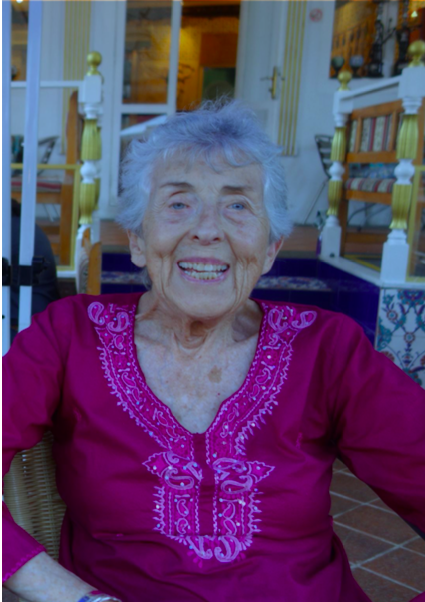 Anne Blackburn, known as Luciana to her Subud sisters and brothers, née Olive Anne Freeman, died Wednesday 20 November 2019, age 89, at her home in El Cerrito, California, from complications associated with her long-standing heart condition. She was surrounded with love by her daughters and grandchildren and two close family friends at the time of her passing.
A loving, generous, witty and insightful person – manifesting unusual combinations of graciousness and stubbornness — Anne spent most of her years in proximity to the ocean, which she loved. Born 30 October 1930 to Henry Edmund Freeman and Leslie Dickinson Freeman, she was raised at Newport Beach, California with her beloved brother Dickinson (Dick) Reed Freeman. Most of the first half of her life was spent in Southern California, living in La Jolla after her education and first teaching job, raising children there with her first husband Tiem (Harold Herman) Tiemroth, Jr. and second husband Maurice Blackburn. Daughters Suzan and Anne Margaret, and son Erik, grew up in La Jolla, regularly joined by their brothers and sisters John, Betty, Katy and Richard, born to Maurice and his first wife Florence. Walks at Windansea Beach were a constant source of comfort and inspiration to Anne, as was the promenade at Cronulla during the year she lived in Australia with her husband Maurice and Anne Margaret, deepening her ties to Maurice's Australian family, including his sister Louisa Hamilton and his brother Dick Blackburn.
After Anne moved to Friday Harbor, views of the water, especially from the west side of the island, were her touchstones. Walks along South Beach, on Mount Finlayson, and in the forest at Friday Harbor Labs, were a family tradition, along with picnics at the Whale Watch Park, especially during the visits of her much-loved grandchildren: Jean Blackburn and Liz Blackburn (born to John and Holly), Max Joy (born to Richard and Margie), Lisa Guernsey and Daniel Guernsey (born to Betty and Roger), Lucía Hamilton and Roberto Hamilton (born to Katy and Jaime), Gillian Perkins (born to Suzan and Chris), and Mariana Zavala and Marcio Zavala (born to Suzan and Luis). Her god-daughter Charlotte Plog Couto and god- buddy Bryanna Plog were always at the heart of Anne's life along with their parents Debbie and Bryan. In El Cerrito she learned the beauties of the San Francisco Bay, especially the view of the Bay Bridge and Golden Gate Bridge from the Berkeley Marina, remembering her father and Maurice while watching sail boats headed for the Pacific Ocean.
Luciana was opened in Subud in 1959 in Los Angeles, and was a Subud member in San Diego until 1977. The spiritual training made possible through Subud marked Luciana strongly, helping to nurture her openness to joy and her acceptance of sorrow. In San Diego she also served as Helper for eleven years. After her move to Friday Harbor, Luciana was active in the Subud groups at Mount Vernon and Bellingham where she developed precious friendships, participating as Regional Helper from 1984. In the most recent years, owing to her ill health, the latihan was held lovingly at home in El Cerrito. Anne became a member of Society of Friends in 1960, deeply impressed by the social inclusivity and pacifist principles of Friends, and by the Quaker teaching that there is divine light in every person. She was active in the La Jolla Monthly Meeting and later the San Juan Island Worship Group. In the Bay Area, she attended Berkeley's Strawberry Creek Meeting.
Anne was a dedicated teacher, who expressed that vocation in different ways during her rich and varied life. After an initial year at Orange Coast Junior College, she graduated from San Diego State University in 1952 with degrees in Social Science, English, and Education, completing a Secondary Credential there in 1953. In 1963 she returned to San Diego State University to obtain a California credential in counseling. Her first teaching job was as Teacher of History and Geography at Burrough Junior High School in Camden, New Jersey. That experience of urban America and the disturbing racial inequalities of the United States marked her deeply and helped to motivate her life-long interest in egalitarian communication and social justice. Her openness and welcome to persons of diverse religions was evident. Encounters during her university years transformed Anne from a small-town beach girl to an internationalist; she retained a life-long interest in travel, and in understanding the family histories of friends and acquaintances from diverse parts of the world. Anne had an abiding appreciation for queer lives and politics.
From 1960-66 Anne was Teacher/Assistant Librarian/Counselor at Midway Adult High School, where she relished the creative challenge of working with adult students. During 1975-77 – after a break from formal employment in order to spend more time with her children – Anne helped to develop the Strongly Oriented For Action (SOFA) tutorial program in La Jolla. SOFA offered tutorial programs for students in need of educational support, including low-income students whose parents worked especially long hours away from home and multi-lingual students entering English-language classroom environments. As SOFA Administrator, Anne coordinated materials with the La Jolla Elementary School staff, and liaised between parents, students, and volunteer tutors. This combination of early childhood education and administration at SOFA inspired much of Anne's later work in Friday Harbor, Washington, where she moved in 1978.
Initially working as a substitute teacher at Friday Harbor Elementary School and Friday Harbor High School, and as an aide at Wee Care Day Care, she became an Assistant Teacher at Wee Care Day Care during 1982-3. From 1983-1995 she worked as Instructional Aide at Friday Harbor Elementary School, helping to lead their Learning Assistant Program and Chapter 1 Reading Program, focused on enhancing students' oral and reading skills. Anne also worked with many Friday Harbor students in her role as Counselor Assistant. In later years Anne returned to adult education, teaching English as a Second Language at the San Juan Campus of Skagit Valley College and serving as Coordinator of that Campus's Tutor/Mentor Program. Anne took special pleasure in working with international students, including Friday Harbor's substantial population of residents arriving from Central America.
Owing to the ill health of her beloved husband Maurice, from the early 2000s Anne focused her energies domestically, providing a safe and loving environment for Maurice at home and in nursing home contexts. She was strongly affected by the death of her brother Dick and that of John Clayton, both in 2003. Anne deeply mourned Maurice's 2012 death, and that of her dear son John in 2018. Based in El Cerrito, California from 2011 with her loyal cat Olivia, Anne was sustained by loving connections to her daughter Suzan and Suzan's family — Gillian and her partner Gen Nashimoto, Mariana, Marcio and his partner Aly Romero – as well as Luis Zavala and his extended family. Her apartment became the focal point for visits of the far-flung family and closest friends, arriving from Melbourne, Sydney, Woy Woy, San Juan, Ithaca, Rochester, Nanaimo, Victoria, Fairfield, Alexandria, Sausalito, Costa Mesa, Friday Harbor, Snohomish, and Bellingham. She also made regular visits to Anne Margaret in Ithaca, especially delighting in fall colors and views across the Finger Lakes. During Anne's health difficulties in recent years, caregiver-friends Debbie Bhurtyal, Neima Suleiman, and Nejiba Osman helped to create an environment characterized by dignity, love, laughter, and safety, bringing more of the world to her.
A celebration of life in the tradition of Friends will be held in El Cerrito, California. In lieu of flowers, Anne-Luciana suggested donations to the following organizations: The Nature Conservancy, Right Sharing of World Resources, and Subud USA.
RIP Anne (Luciana) Blackburn