Since I became a regional helper my latihan has expanded and grown past anything I'd experienced in my previous 30 years in Subud.  For me this has been a time of personal and spiritual growth.
As a helper for the region I've also found that my capacity for listening to the needs of members and the needs of my fellow regional helpers has also grown.
Elizabeth Flanders and I want to see a strong regional helper dewan in the coming term which will start after the National Congress in May.  To that end we are dedicated to working with the new team in the start of their term to provide guidance on processes and systems we've used in the past to help to share the work and make it light.
Perhaps some information on my experience may prove helpful.
The Beginning
I became a regional helper in the spring of 2016. The way it came about was unexpected and completely different from what I thought I would be doing for Subud. The impact on my latihan during this term is that I have been able to receive deeper and deeper than any time previously.  If I'd followed a different road – the road that my heart and mind had me going in – I'm not sure if the results would have been the same.
The way it happened was like this.  At the time I was the vice-chair of our region. The work I'd done with Alexandra (chair) and Pete (secretary) terHorst and Sherwin O'Bar (treasurer) had been very harmonious and full of energy.  I'd enjoyed working with them immensely.
We'd taken the work of the previously and built on it. Things were going well and whomever was selected for the next committee would be able to take this work and build on it. I was willing to put my name forward to test to be the next chair of the region.
The national helpers came to visit and were at the Seattle Subud House.  We were doing testing with them about different things. At the end of the session, some of us who were thinking of testing for different committee positions during the upcoming congress, decided to test whether it was correct to put our names forward.
I thought that the testing would just validate what I was already feeling: I should put my name forward.  To my surprise and validated by others, the answer was No!
It took me a moment to recover from that and to let it sink in. Why, no?  I'd learned so much from being on the committee and working with our board members.  This work intensified my desire to continue to work for our region.  I wanted to continue that work.
What to do?
I didn't want to miss an opportunity for further testing with the national and local helpers on next steps.  So, I asked them if we might test as to whether it was appropriate for me to become a regional helper after my committee term was up. The answer we all received was yes.
Being a regional helper was different than committee regional work
I joined the regional helper team at the end of July 2006.  The members at that time were Beata and Michael Alexander, Elizabeth Flanders, Elisha Gullixson, Isadora Roth and Benjamin Boyce.
My first experience with the team was attending their regular annual planning session for Menucha which was held in August at the Alexander home in Portland. I remember how comfortable everyone was with each other, how we easily shared our experiences and the results of our testing. This way of working together helped me to turn off my analytical mind and turn to testing and sharing with my fellow helpers.  I felt included and welcomed.
Out of that experience came the theme for that year's Kedjiwan weekend at Menucha.  I was able to use some of my organizational skills helping to create the schedule and the poster sized schedule printout we used for that year's event. I was beginning to understand how to do the work.
A Regular Rhythm of Meetings helps
The team had regular monthly meeting where we did latihan separately beforehand and then met to discuss the kedjiwan needs of the region, regional latihan attendance and any upcoming group visits. This kept us up-to-date on group activities and any group issues where only one of us had been contacted.
At the next two meetings I learned about the work of the regional helper team and helped with the coordination between our team who was responsible for the agenda of the retreat and Alexandra terHorst, who was our registrar.
Kedjiwan Retreat at Menucha 2016
This was my first experience with being a part of receiving and then carrying out the meaning and purpose for an event of this type. Always a participant, never an organizer, it took me awhile to get oriented and to understand how to follow the flow that had been laid out in our receiving so many months before and validated in our latihans before the event began.
We checked in with each other daily reviewing the plans for the day and who was going to lead each session, who was going to organize the workshops and who was going to time each latihan, splitting the work between us so that no one felt overburdened. We also shared the work when questions came up from the members.
Closing the event with a latihan for us and the other organizers left me clear for the drive back up to Seattle.
This was the last official event for the Alexanders who were focusing on moving to Spain and needed to complete tasks in Portland that would facilitate that. Beata offered to support as much as she could from afar.  We said goodbye and thanked them for their service. We miss them.
Regional Helper Liaison with Subud PNW Board
Having been on the committee prior to this work, I knew the value of having the same regional helper man and woman attend these monthly meeting.  It would allow these two regional helpers to develop a sense of the work of the board and how we could be in support of it.
We had been rotating different men and women helpers for each meeting. I made a recommendation that we switch to assigned men and women who would always be in attendance. We agreed, but, because of scheduling conflicts couldn't always have one or our two regional helper woman attend.  We agreed on Isadora as primary and Elizabeth as backup. I volunteered to be the man always attending. If there was ever a need for a substitute Elisha or Benjamin would back me up. We took care of each other.
One of the benefits of this process was the ease of creating a regional helper report. Aaron asked that each center and the regional helpers submit a written report to help reduce the time needed to produce our minutes. As primary participants, Isadora and I created a template for our report. Using that template we were able to update the last report with any changes in the last 30 days.
Planning our year
Each year your regional helpers meet to test about the needs of the region and each center plan out assignments for center visits. Our process for visits includes both testing about the needs of each center and receiving requests from centers to visit them.  Due to the size of our region, budget and time available for travel to the wide areas of our region, we needed a way to figure out how to schedule these visits. This was our process.
Attending Annual In Person Board Meetings
Once a year the board meets at one of the properties owned by the region in person. This allows the board to spend a day in testing and talking about the needs of the region.  There are reports from each center, a treasurer's report.  Any local members who wish to attend are also invited to do so.
The first year I attended as a regional helper, the meeting was held at the Bellingham/Skagit Valley Subud House.  The group was kind enough to host a lunch for this meeting along with participating as members. We had just completed our annual planning session and reported the results to the board and members, where upon we had a request to attend another center which we were later able to accommodate.
Participating in this meeting with other regional helpers, cemented for me our support of the region and the centers in the work we do for all members.
To Learn More.
If you would like to know more about how to become a regional helper, please contact either Oswald Norton or Elizabeth Flanders.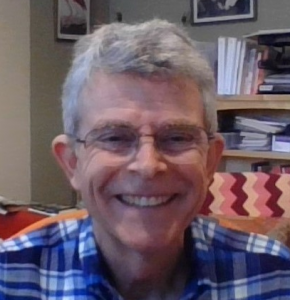 Becoming a Regional Helper Has Helped Me to Grow