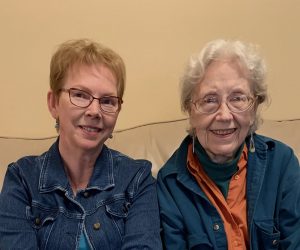 Subud PNW needs an additional woman Regional Helper!  Honora Drew and Rosalyn Neel (pictured) are inviting
all women helpers in the region
to please consider whether you would be willing to serve as a regional helper at this time.
Prior RH experience isn't required.  We also welcome those who haven't had a chance yet to serve in this way.
Ladies, please consider your own willingness, and if you feel some, pre-test locally or with us about whether to test further at Menucha, if you will be attending.
Some travel is necessary, but much of our travel is "electronic" – since our regional members are geographicaly diverse, and many cannot make it to group latihans.  Needs can sometimes be met through phone calls and simultaneous latihans.
Please call us with any questions: Rosalyn Neel (360) 949-2577.  Honora Drew (907) -399-7751.  SPNW's national helper liaison is Loretta Covert (719) 480-1150.
Recruiting another Woman Regional Helper