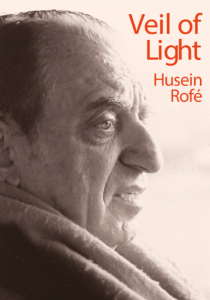 When my wife and I lived in San Francisco, Husein Rofé would come to visit the group and we'd go out and have dinner together.  He was such a gentle and interesting man and we made a connection. Because of that, every time he was coming into town we'd get together and he'd share stories of his life.
Sharif and Astuti Horthy have just published his autobiography, "Veil of Light", through their Purple Pagoda Press.  They describe the book this way.
"In 1951 he arrives in Central Java, in newly independent Indonesia. Here he discovers an unknown spiritual practice called Subud, a transformative experience that is passed from person to person without any teaching involved. He becomes convinced of its universal significance and feels called to make it better known. Through a series of adventures and uncanny coincidences, he succeeds in bringing it to the attention of seekers in the West."
To learn more about Husein and the story of the early days of Subud, please visit their site where you can purchase a copy.
Also available there is the memoir of Sharif's mother, Countess Ilona Edelsheim Gyulai, titled "Honour and Duty".
Would you like to know about Husein Rofé, one of the first pioneers of Subud?