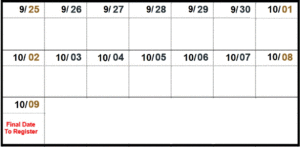 As of this writing we have 63 members who have registered. Every day more and more people register as we enter into the last 14 days before registration must end so that we can provide the attendee count to the conference center.
It is exciting to see the names as registrations come in.  If you join us, you will see folks who haven't been to a gathering in a while, and some who are fairly new to Subud.  Come find renewed community, deepened Latihan's, and new conversations.   Help us honor this wonderful place one last time!
We've opened up more slots in the Barn and there is still space available in Ballard and Wright Hall. We've priced this year's event to make it more affordable for our members to attend this last event at this location.
All day passes allowed by Menucha are sold out, but "Top Bunk" (Economy Dorm) and Barn places are still available for just a little more money.( you can sleep elsewhere) 3 days for only $285, or 2 for $180.
To see pricing for this event, please use this link.
To immediately register for this event, please use this link.
Financial Assistance Applications end Tuesday 9/26!
Please apply now for financial assistance by using this form. Financial Assistance applications must be completed by 9/26! All assistance is tested and can this can take a little time to finalize.
Questions? write to us at:  menucharegistrarATgmail.com
Speaking of Financial Assistance – More donations needed!!
When you register, please consider making a donation to the Assistance Fund so that those who need assistance can share this wonderful weekend with us.
If you prefer to donate to the Assistance Fund via check, please send your check to:
Morris McClellan
3127 NE 103rd Pl
Apt. B
Portland, OR 97220-2866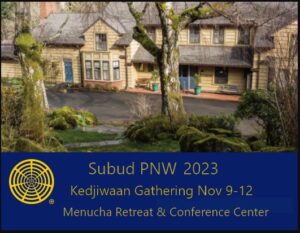 Cancellation Policy:  Registrations may be cancelled until October 15 with a full refund less a $50 administrative fee. After October 15, no refunds will be made unless your room/day pass is resold to another registrant, in which case a refund will be issued minus a $50 administrative fee. ($40 for day pass refunds).
Subud PNW Kedjiwaan Gathering Registration closes in 14 days